Mono-PE material packaging plastic composite film and pouch of Chengde Technology obtained " China Green Product Certifcation".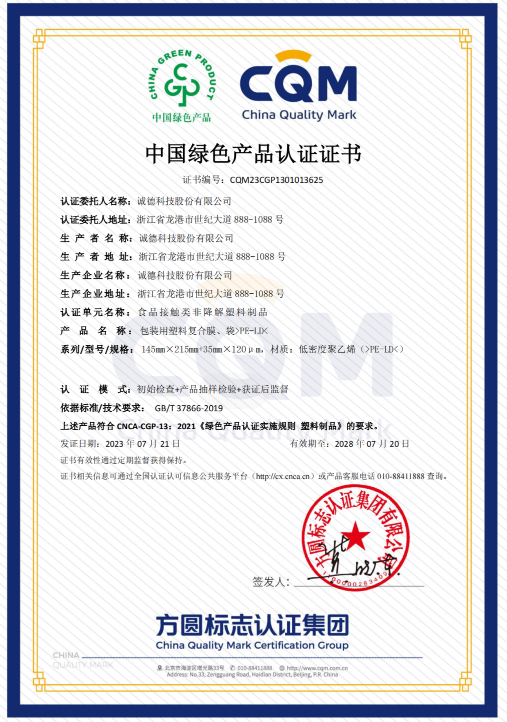 Green product certification is to establish a green orientation for quality development, and is an important driving force and endogenous driving force to guide green consumption and promote the green development of industries. The Market Supervision Bureau adheres to the concept of green development, continues to promote green product certification, and creates a "new engine for high-quality development" ".
The targets of green product certification are mainly terminal consumer goods, and select products that are highly concerned by consumers, urgently needed for consumption upgrades, and have a great impact on the ecological environment and human health.
In accordance with the guidelines of unified catalogue, unified standard, unified evaluation and unified labeling, the existing environmental protection, energy saving, water saving, recycling, low carbon, renewable, organic and other products are integrated into green products, and the market is positioned as green high-end product certification.
CHENGDE TECHNOLOGY
Founded in 1999, Chengde Technology Co., Ltd. is committed to the research and development, production and sales of plastic packaging composite films (bags), medical protective masks, functional MDOPE films, recyclable packaging for food, pharmaceutical, and daily chemical products.
The company adheres to the marketing concept of "Customer-centric, Providing More Valuable Products And Services", introduces digital printing value-added services, quickly puts your products on the market, and establishes strategic partnerships with well-known domestic and foreign brands. At the same time, the company focuses on the sustainable development of plastic packaging, invests in the construction of a "Functional Polyethylene Environmental Protection Material Production Base", and introduces leading German MDOPE film and barrier coating production lines to realize the recycling and recycling of plastic packaging. Develop into the most competitive enterprise in the industry!